Your home is an extension of your personality and style. However, your home is also something you want to protect. ABB Door Entry Systems marries the best of both worlds and offers stylish, innovative door video systems for your home. So, whether your style is classic, modern, or vintage, there's a door entry system that will compliment your existing decor. ABB Door Entry Systems also offers two timeless door video security for smart homes: the ABB-Welcome IP system and ABB-Welcome 2-wire.
The APP Welcome Products can be fitted for the following properties:
Multi-apartment complexes
High-end residential properties
Mid-size commercial properties
At ABB Door Entry Systems, our innovative products are designed to protect your home and make it easier to communicate with anyone who visits your property. Our systems are routinely used by residential and commercial property owners alike thanks to our affordable, energy-saving products. Whether you're a property owner who wants to provide extra security to your tenants or make it easier for your staff to interact with deliveries, we offer ABB-Welcome and ABB-Welcome IP door entry systems for both sides of the door.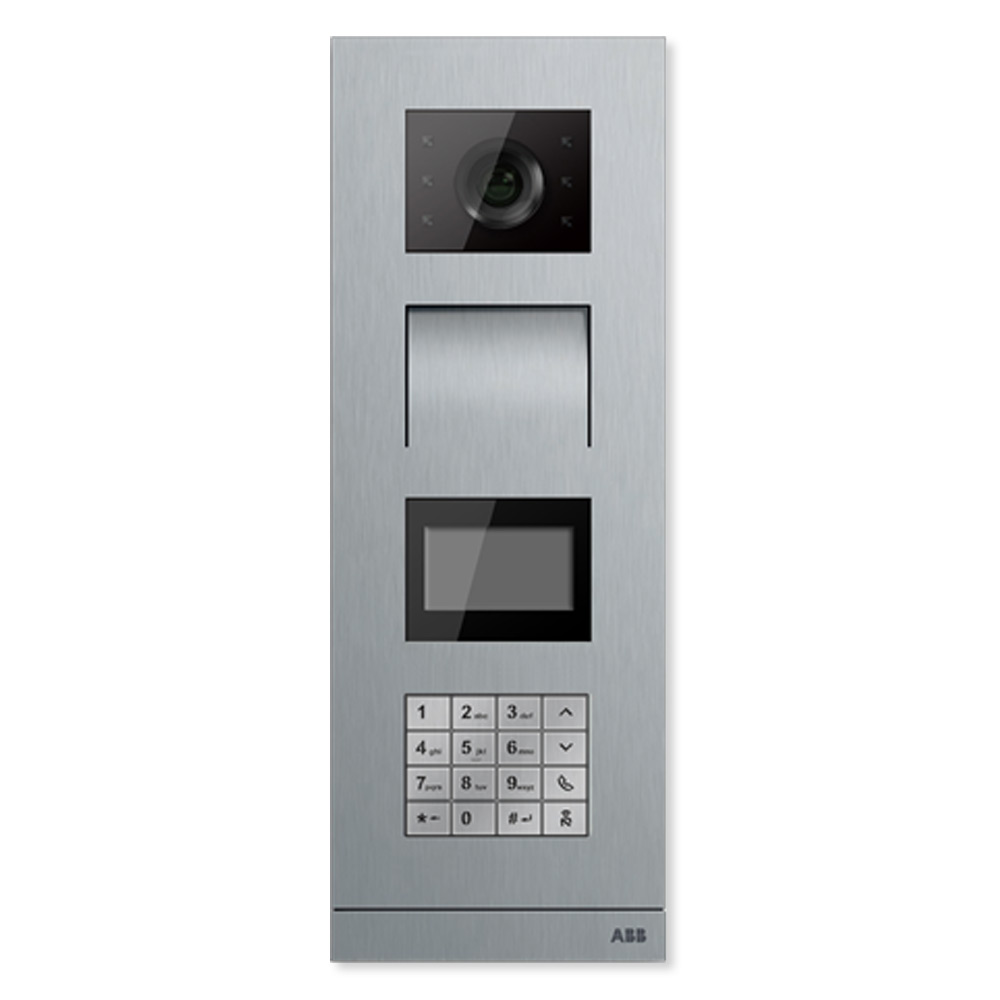 ABB Door Entry Systems Offer Endless Possibilities to Protect Your Property
The team at ABB Welcome works with both commercial and private properties, so we have the experience to meet any demand, ranging from the most basic door video system to the most complex. ABB-Welcome has twelve functional modules that deliver excellent door communication that can be fitted for new and existing applications. The products at ABB-Welcome can be customized to fit any need, whatever they may be.
Likewise, the technology offered by ABB-Welcome IP can equip homes and commercial businesses with unlimited devices that make it easier to communicate.
Easy and Secure Communication
Running a home or business is a lot of work, which is why many property owners look for ways to make communication easier. Our products include room-to-room calls and apartment-to-apartment communication, so you can easily and securely communicate with the outside world. Plus, this makes it easier to stay in touch with your friends living down the hall or colleagues in another office.
The Perfect Blend of Style and Function
While installing a door entry system is important, you always want it to fit in with your existing decor. The Welcome and Welcome IP door communication systems have a beautiful, snap-in design that can blend in with your existing decor. Furthermore, these door communication systems have impressive functionality, including video surveillance, property management, and remote access (to name a few).
Advantages of Using an ABB Welcome and ABB Welcome IP Door Communication System
The modern door communication systems by ABB Welcome and ABB Welcome IP offer unmatched style, comfort, and flexibility. Our entry systems are easy-to-use and meet the highest requirements requested by our customers for communication and safety. Here are some of the advantages of using an ABB Welcome and ABB Welcome IP door communication system:
When you want to install a door communication system, you want to have a system that's comfortable to use and work with. The ABB-Welcome IP system features comfortable indoor and outdoor communication stations between different units, making it easy for property managers to communicate with security guards and other officials.
The most simple, timeless designs are meant to stand the test of time in regards to functionality. Door entry systems by ABB-Welcome IP are universally designed and can be implemented with different design elements based on your needs and preferences. For example, the stylish, comfortable ABB-Welcome door communication systems can be retrofitted into houses or used for new constructions.
Security for Peace of Mind
No matter where you are, you deserve to feel safe. The ABB-Welcome door entry systems are designed to give you security and peace of mind, whether you're at home or work. We can equip your home or business with door entry systems that feature camera surveillance, different access controls, and much more.
Flexible Modes and Project Types
ABB-Welcome and Welcome IP operate off one simple philosophy: to keep door entry systems as easy to use and efficient as possible. It's this flexibility that allows the ABB-Welcome and Welcome IP to adapt to any project, whether they be office buildings, homes, or high-rise apartments. We offer two optional door entry systems that provide limitless service.
The ABB-Welcome and ABB-Welcome IP offer two easy-to-use door entry systems that will fit any type of building, whether they be a single or multi-family home or office space. All of our entry door systems feature an elegant design and impressive functionality that makes communicating with the outside world a breeze.
Communicating with the Outside World
To live and work comfortably, you need to have peace of mind that you and your property are protected. With the ABB-Welcome and ABB-Welcome IP, you'll have the ability to clearly and easily communicate with visitors before granting them access to your property. Our systems feature classic designs and possess the most advanced technology on the market, granting the highest security to your home or office.
The ABB-Welcome door entry systems can be customized with different modules, including the use of a camera. The ABB-Welcome IP allows you to customize your door entry's modules with different sizes and integrated elements.
The ABB-Welcome and ABB-Welcome IP feature a full range of complete duplex sound, granting crisp, clear communication with everyone who enters onto your property. These systems also include:
Your choice of ringtone at no additional cost. This ringtone can be different for all sections of your property including the guard unit, doorbell, and floor call.
Complete duplex sound, making it easy to speak and hear visitors.
Suppression of outside noise so you can clearly hear who you're communicating with.
Access Control to Make Communication Easier
Our door entry systems give you greater access control than a lot of other units on the market, such as:
Automatic unlocking door
Built-in or stand-alone card reader with a chip-integrated mobile phone or ID card
A keypad that offers both private and public passwords
Call forward capability to security units or property management
Elevator control for authorized access. This feature allows visitors to take the elevator to a specific floor and allows for owners to call the elevator upon arrival and exit.
Top-Rated Security for Buildings
Our door entry systems provide ultimate building security. Our security features include:
Call history
ABB-Welcome public and private cameras
Infrared sensors that capture everything in detail
LED lights for crisp facial recognition
Automatic snapshot of who is entering the property
Cameras that allow for interface to IP (Available on ABB-Welcome IP)
Fire alarm and intrusion alarm integration (Available on ABB-Welcome IP)
Additional outdoor video station at your front door (Available on ABB-Welcome)
Security Guard Unit Features
If you're a property owner who runs an apartment complex, gated community, or office space, you'll love our security guard unit features. Our guard units come with managing door communication and intercom to apartment capability. These units also have OS and IP surveillance camera functions, lock function, and emergency release.
Features for Property Managers
Just like guard units, property managers will be able to easily communicate with the outside world with our innovative door entry systems. Our units come with door communication, alarm handling, card management, and remote software and setting systems, allowing you to grant access even if you're not on the property.
These units also feature an emergency release, lock and unlock function, surveillance, text messaging with image broadcast, and intercom capability.
Letter Boxes and Seamless Integration
Our door entry systems also feature letterboxes, which come with seamless integration. We can retrofit our ABB-Welcome modules onto existing letterboxes. Our systems are also compatible with a wide range of letterboxes and bell systems, even those created by different manufacturers.
Our systems can also be programmed to include a light switch and calling guard, as well as a basic audio module that allows you to communicate via a microphone or loudspeaker. This also comes with a button extension that can fit up to 99 different buttons. All of our door entry systems come with lateral door components and doorbell panels that enable perfect audio and video communication.
Regardless of whether you're living in a house or running an office space, you want to be able to communicate with others seamlessly. The ABB-Welcome IP door entry systems turn any home or office into a comfortable and secure space. Our door entry systems are designed to fit into any sort of decor and style.
We feature a diverse number of displays. In terms of size, these displays can range anywhere from 4.3 inches to larger 7-inch displays. These displays feature large buttons, clear symbols, and safe control of all functions. Depending on the model, we feature touch displays, touch buttons, pushbuttons, or even pure audio solutions. These are all available in a handset or hands-free versions. They interface with IP cameras and have a control panel for home automation to execute KNX settings via an indoor station.
Several flexible communication options include apartment-to-apartment, room-to-room, and all-in-one indoor stations as well as room-to-room one-to-one indoor station calls. There's also a blacklist function for "do not disturb" settings. Also included are a text messaging function to guard the unit or manage the property, call waiting, and an audio recording function for messages to family and visitors. There's also an intelligent community for information like free queries, convenient service, weather forecasts, navigation, and advertisement.
Our door entry systems come equipped with several SD card functions such as:
Individual screensaver displays
Personalized ringtones featuring your favorite songs
The ability to use the indoor door entry system as a digital photo frame so you can proudly display your favorite photos in high definition
If you have questions about how to use your indoor station, you can equip them to play instructional videos.
Telephone Gateway Only Available on the ABB-Welcome
With the telephone gateway – only available on the ABB-Welcome door entry system – you'll have your own indoor station. You'll be able to unlock the door, switch on the lights, and do all of your communication over the phone. This system is suitable for commercial buildings. With this system, a PSTN telephone is integrated as an audio indoor station on any mobile device.
An indoor station can be extended to mobile devices such as smartphones or tablets. You'll be able to see and identify every visitor while allowing them to enter and welcoming them. The Welcome features multi-camera monitoring that ensures control over the whole building. The Welcome can also take intercom calls, including home-to-home and room-to-room calls. It also allows for guard unit communication, the ability to activate an elevator during a call, support of 2 locks during a call, SOS calls, and a notification function. All of this is available with a simple configuration via MyABB-LivingSpace and ABB-Welcome app or simply via QR code.
Every building has character, whether it be an office space or residential property. Thanks to ABB-Welcome IP, you can easily equip your home or office with seamless door entry systems that are so easy to use. No matter how old your building may be, we can install a door entry system so you never have to be without the added protection and security you deserve.
System Scope Available on Both Models
Both the ABB-Welcome and ABB-Welcome IP come with a variety of features homeowners and commercial property owners alike will love.
Available Features on the ABB-Welcome IP
The ABB-Welcome door entry system features the following:
Nine guard units can be installed at more than one gate station, making it the perfect selection for residential and building complexes.
Nine outdoor stations for both single-family apartments and houses allow visitors to enter from different areas.
The ability to link up to 60 buildings on one network system.
These indoor stations will cost $250 per building. Gate stations can sit 600 m from the last indoor station.
Available Features on the ABB-Welcome IP
The ABB-Welcome IP door entry systems are suitable for different types of properties, including single and multi-family homes, apartment complexes, and high-rise buildings. ABB-Welcome IP features the following:
Unlimited devices that grant you seamless connectivity for any number of devices located in the same building
Unlimited connectivity so you can easily communicate between buildings with zero lag
Unlimited channels so you can easily contact different homeowners from different entrances simultaneously
Additional Noteworthy Features
Both the ABB-Welcome and ABB-Welcome IP have several noteworthy features, such as that set our door entry systems apart from the competition. We describe them below.
There are a handful of assistance functions available. An SOS button can be managed in the ABB-Welcome app. There is also a programmable doctor function that allows for automatic unlocking in case of emergency, an induction loop function for hearing aids, and a panic call – an SOS button for indoor stations that will call either the guard unit or property management.
The following accessories are available on our door entry systems:
Optional flush-mounted or surface-mounted outdoor stations that fit your specific design needs.
IC/ID cards as extended equipment for outdoor stations
Name Plates for doorbells
Non-slip stands for answering calls from the desktop. (Available on ABB-Welcome)
Additional rain hoods for outdoor stations that protect from humidity. (Available on ABB-Welcome)
Accessories such as different color frames for indoor stations and different cover frames for outdoor stations from 1-10 modular frames to fit aesthetic taste. (Available on ABB-Welcome)
Different sizes of system controllers to fit different weather conditions. (Available on ABB-Welcome)
Our door entry systems are also weatherproof, so they can stand up to almost anything. Our IP certificates proudly stand for the "international protection standard," which classifies and measures the level of protection our door entry systems provide against water, dust, and accidental contact. These levels are classified on a scale ranging from 00 (the lowest) to 69 (the highest).
Our analog cameras are both waterproof and dustproof and have an IP rating of 66. All of our outdoor stations have an IP rating of 54, whereas our indoor stations have an IP ranking of 30. All of our system devices, including indoor and outdoor units, are waterproof and dustproof.