Iron Works
Safety in your Surroundings
Where Caution Blends with Technology!
Lock and Tech USA has been providing high-quality steel, iron, and ornamental work to the NYC area for over 25 years. We serve all businesses and homeowners with the knowledge and creativity to craft a product you desire.
Need of metallurgical service, custom metal fabrication, welding, and or general ironwork? Our licensed professionals will take care of any request geared around ironwork and metal fabrication.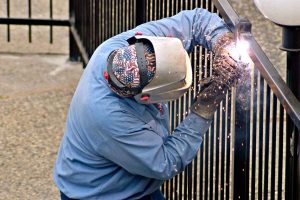 Our ironworks experts are more than well equipped to handle ironworks tasks ranging from simple welding, to metal fabrications such as Rolling Gates, Fences, Plasma Cutting, Railings, Steel Porches, Staircases, and Metal Steps, Steel I-beams, Rust Proofing, Window Guards, and many other ironworks residential services. Whilst assisting in forging the most optimal vision and ironworks plan we'll take full care of the literal ironworking and forging to supply.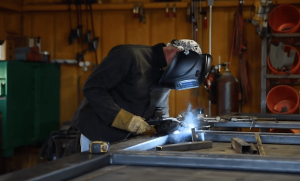 Our customer satisfaction is of the utmost importance and we will work to make your ironworks plans into reality. Touch base with our licensed ironworks specialists for consultation, servicing, and supply and install metal fabrications. Be it still metal fabrications or rolling and hinge crafts we are capable and ready to accommodate. Make full use of our ironworks experts and get ready to have your vision forged. Contact us today for all of your ironworks needs. We aim to carry out your ironworks tasks and ensure your satisfaction with the servicing.
Custom Iron Railings in New York
One of the most requested types of metal fabrication on the market today are metal railings. At Lock and Tech USA we are happy to provide customers with a wide range of popular metal railing options. Additionally, we can craft custom wrought iron railings to your liking in order to perfectly and beautifully complement your residential or commercial property.
The types of metal railings we offer include, but are not limited to:
Custom gates and fences
Electric gate openers
Security gates
Custom stairwells
Phone systems
Driveway gates
Custom balconies
Custom front doors
Chain link fences
What is metal railing?
A metal railing, also known as an iron railing, is simply a type of fence made of iron. They are also used to provide a barrier in a decorative manner that adds character to a property. What is unique about these types of fences is the fact they are known for coming in a variety of ornamental designs.
What to know about metal railings
Not all metal railings are created equal, and if you are looking for the best quality than metal railings should be made out of wrought iron. Wrought iron is more durable and has the ability to be fabricated into various shapes. Metal railings are also commonly made from cast iron, which is also a good option but of slightly lower quality compared to wrought iron. Metal railings are popular because they offer a wide range of designs and are very versatile in where and how they can be used. For example, not only can they add a decorative element to a home, but they can also provide security.
Where can metal railings go?
Metal railings are extremely versatile and can be put in numerous areas throughout a home or commercial property. Though they are commonly used in the exterior of a property, many customers opt to have ornamental iron railings inside of the home as well. This is especially popular for staircases and on the second story of a home to provide a barrier. Outside of the home, metal railings are commonly used as handrails, in entrances where there are steps, or even around a deck or pool.
How are metal railings fabricated?
As a metal fabricator company, we fabricate all metal railings in-house. Our artisans carefully craft each metal railing to perfection thanks to their years of experience in the industry. The metal structures needed for your product can be bent, shaped, drilled, and assembled to the required specifications. The pieces will also be coated with protective paint to prevent erosion. From here, depending on the project the metal might be welded, laser cut, sheared, burned, or may go through some other method to reach its final shape. The final touches include sanding, priming, and painting the finished product. After that, your product will be ready for installation.
What designs does Lock and Tech USA offer?
We're proud to offer our customers a wide variety of ornamental iron wrought iron railings and custom wrought iron designs. Whether you're interested in a classic ornamental design or already have a custom idea in mind, our team is ready to help. For a full range of designs, visit our Gallery or give us a call!
Are metal railings worth it?
Metal railings are meant to be solid, durable pieces that last for years. With proper care and maintenance, you can truly get the full range of life of your product. Metal railings also have numerous benefits whether it's to provide aesthetic appeal, give you a sense of security, or provide extra safety measures. When you choose a company that is highly experienced in creating top quality products, metal railings are absolutely worth it.
If you're considering metal railings for your home or commercial property, get in touch with us at Lock and Tech USA. We are happy to go over the various types of metal railings and can suggest which would be best for your project or work with you to build a custom wrought iron design.
Protect Your Home From Anywhere
Monitor your home from anywhere and anytime
Nam quam nunc, blandit vel, luctus pulvinar, hendrerit id, lorem. Maecenas nec odio et ante tincidunt tempus. Donec vitae sapien ut libero venenatis faucibus. In enim justo, rhoncus ut, imperdiet a, venenatis vitae, justo.
Wireless Intercoms
No Wiring Solution
For some of our clients cabling is not an option. If this is the case, then we have a no wiring option that can be the solution. We have several products that will work according to your tastes. It even operates on a regular phone line.
Protect Your Home From Anywhere
Monitor and record video remotely with awesome IP network
Nam quam nunc, blandit vel, luctus pulvinar, hendrerit id, lorem. Maecenas nec odio et ante tincidunt tempus. Donec vitae sapien ut libero venenatis faucibus. In enim justo, rhoncus ut, imperdiet a, venenatis vitae, justo.
Enhance Your Customer safety
Install real-time video verification and protect your consumers, selling, and profits.
Nam quam nunc, blandit vel, luctus pulvinar, hendrerit id, lorem. Maecenas nec odio et ante tincidunt tempus. Donec vitae sapien ut libero venenatis faucibus. In enim justo, rhoncus ut, imperdiet a, venenatis vitae, justo.
Easily Monitor the Dynamic Environments
Easily evaluate and monitor cloud-based services and applications
Nam quam nunc, blandit vel, luctus pulvinar, hendrerit id, lorem. Maecenas nec odio et ante tincidunt tempus. Donec vitae sapien ut libero venenatis faucibus. In enim justo, rhoncus ut, imperdiet a, venenatis vitae, justo.
High-Quality Safe and Secure Access
Keep safe your home with authorized personal safe and secure access
Nam quam nunc, blandit vel, luctus pulvinar, hendrerit id, lorem. Maecenas nec odio et ante tincidunt tempus. Donec vitae sapien ut libero venenatis faucibus. In enim justo, rhoncus ut, imperdiet a, venenatis vitae, justo.
Our Goal
We understand that your home or businesses' design is important to you. At Lock and Tech USA, we want to provide you with hand-crafted iron doors and furnishings that add character to your environment. We have a wide variety of iron door products and we can help you find the right one for you! Our goal is to provide a product that adds to your desired ambiance. Our various products include eyebrow wrought iron doors, half-moon doors, straight iron doors and much more! Contact Lock and Tech USA – today!
Get a Free Risk Assessment of your home or business by Our Security Expert
Lock and Tech. Service Well Done!
We have extensive experience with hand-forged work, in a variety of metals such as iron, bronze, stainless steel and aluminum. All of Lock and Tech USA work is created locally in our shop and is specifically planned by our team to fit each client's needs and expectations.
It is our goal to provide quality workmanship and professional service to each client by assisting them through the entire creating process of prefabrication, fabrication and installation.
We Serve Residential, Commercial, & Industrial Sector clients in the NYC area. We offer Reliable & Quality Products at a reasonable price. Our technicians are highly trained in the installation, testing, & repairing. Additionally, we use only the most advanced equipment to ensure your home or facility's safety. Lock and Tech USA tests every system we carry, so our clients always receive quality, reliable equipment.
Hear from Our Clients
I am a property manager in Manhattan and had to find a company to repair a busted intercom system. I came across Lock and Tech, and George set everything up for me, answered all of my questions over three different conversations, and he never made me feel like I was bothering him with all my questions and concerns. The technicians did a fabulous job and had the intercom fixed in less than an hour. The men cleaned up thoroughly after the job which I completely appreciated. I highly recommend this company and will definitely use them again.

We are renovating our small (6 unit) apartment building in Manhattan and decided it was time to replace our very old and finicky intercom. We opportunistically decided to install a Virtual Doorman so we buzz deliveries in when we are not at home. The team at Lock and Tech has been great. The installation was all done in one day and we all have electronic keyfobs that control our first two doors, in addition to the keypad. The team is very responsive and professional. I highly recommend them!

After doing research for a an installer, we landed with Lock & Tech for a small install. I was so impressed with their customer service, quality and overall work, we hired them for a larger job. We've like the work so much we've been using them for the past 3-4 years doing installs in and around our facility. The team is very knowledgeable and accommodating, and will work with you throughout the whole process until you are satisfied. Prices and services are great and will continue to use their services in the years to come. Highly recommend!

I selected Lock & Tech for our intercom system installation after looking up every company that does this work. Even after selecting them I was skeptical of Google and Yelp reviews and wasn't sure what I would get. It turns out they are reliable, do expert work, and are great to work with. My building is very old and they did an excellent job of installing the intercom, strikers and locks despite the difficulties that exist in old buildings. They were attentive to all our particular needs and responded quickly to calls or texts. Above all, the price was very reasonable, more so than other installers. I highly recommend them.

We had Lock and Tech USA install a security camera system to our Prospect Heights co-op and Gabriel and his team did an amazing job! They installed the whole system, including 6 cameras on the interior and exterior of our building in one day! The quality of the cameras and equipment is top of the line- the picture is crystal clear. They are very thorough, responsive, professional and offer high quality installation and equipment for a great price. They email and call when you need and made sure we were 110% happy with everything. Highly highly recommend these guys!

Derek was amazing and professional. He met all my needs and answered all my questions. His workers came knowing what was needed to be done and did an amazing job. I needed to get my camera system replaced with a new one. They charge on a hourly basis, so the workers did not take their sweet time to run up the price. They did a very professional job at a very fast rate. I am very pleased with Lock and Tech USA. I will always refer to them for any security needs. Thank you guys.

Lock and Tech USA successfully installed an AIPHONE intercom system at my Brooklyn office. Their technician, Viktor, was personable, pleasant, and highly skilled. Viktor carefully installed the intercom system without damaging expensive suede wallpaper, professionally concealed wires in walls, and ensured that the intercom system was perfectly functioning before departing. Viktor is a wonderful technician. As such, I recommend Lock and Tech for AIPHONE intercom installations – Ask for Viktor!

Great communication, follow-up, and support!! Sales was straight forward, no point even negotiating, very reasonable and understanding! Installation was quick and thorough and they put everything exactly where I wanted them to be. We had an issue with one of the devices and they responded in minutes and even came back the next day. Amazing service!
Have any ideas in your mind?
We provide leading security systems
Companies We Have as Clients