Alarm System Installation for Home & Business
Professional Monitoring Keeps Your Home or Business on High Alert 24/7
You can't be certain of when an emergency will strike. But with professional 24/7 monitoring support from Alert Protective, you'll never be caught unprepared.
Lock and Tech USA offers custom alarm system and security solutions at affordable rates. Unlike many Alarm companies who offer pre-designed "one size fits all" security services our core belief is that each customer needs and deserves a custom security solution that fits their specific needs and requirements.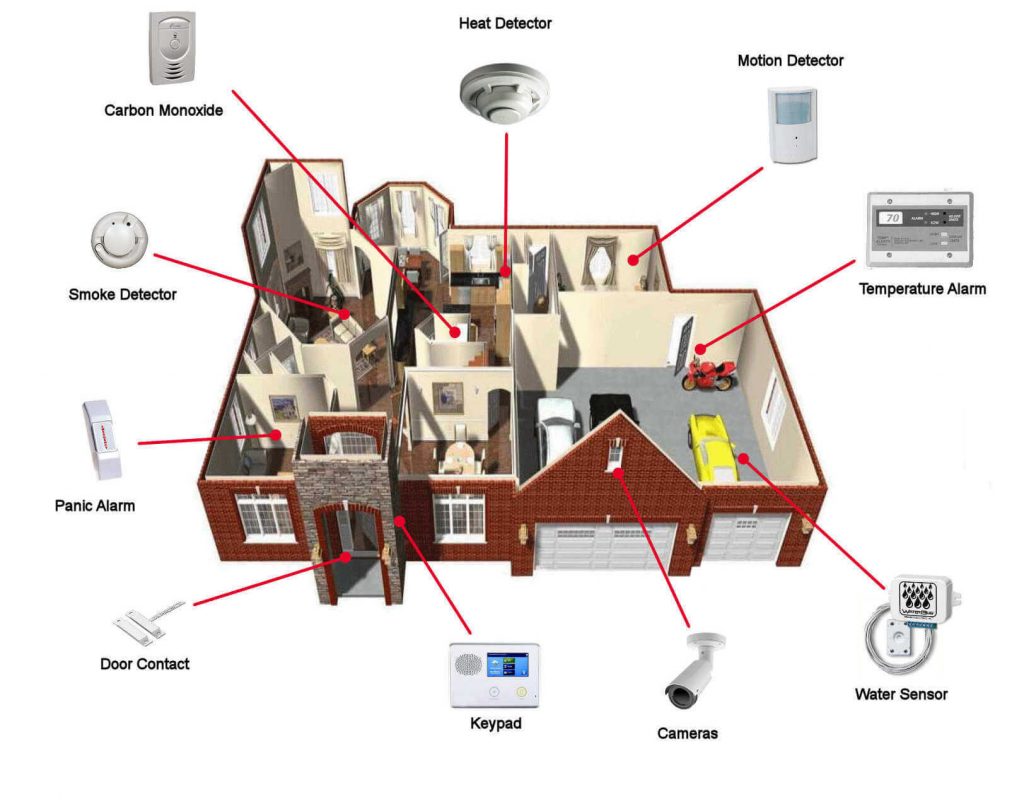 We are a locally owned and locally operated company that has been serving the New York City community for decades. Our staff is comprised of professional, highly trained individuals that are here to ensure area homes and business are safe and secure—you can rest assured that Lock and Tech USA will be there to help with your security related needs.
Home Alarm Systems
Types of Home Security Systems
Having a home security system in today's world is not just a good idea – it's essential.
The world is a dangerous place. There are more than two million burglaries committed in the United States each year. You don't want to take a chance that you are one of the lucky ones.
Having a great security system can make a big difference in how you feel. You will be at peace when you go to sleep at night. You will feel confident when you head out to work in the morning.
Knowing that your home, your family, and your property is safe is peace of mind that everyone deserves.
Of course, when you look at the different options on the market for these security systems, it can get overwhelming rather quickly.
Let's look at the various types of home security systems that are out there and break them down into simple to understand chunks. This will help you on your journey to choosing a quality system that's right for you and your home.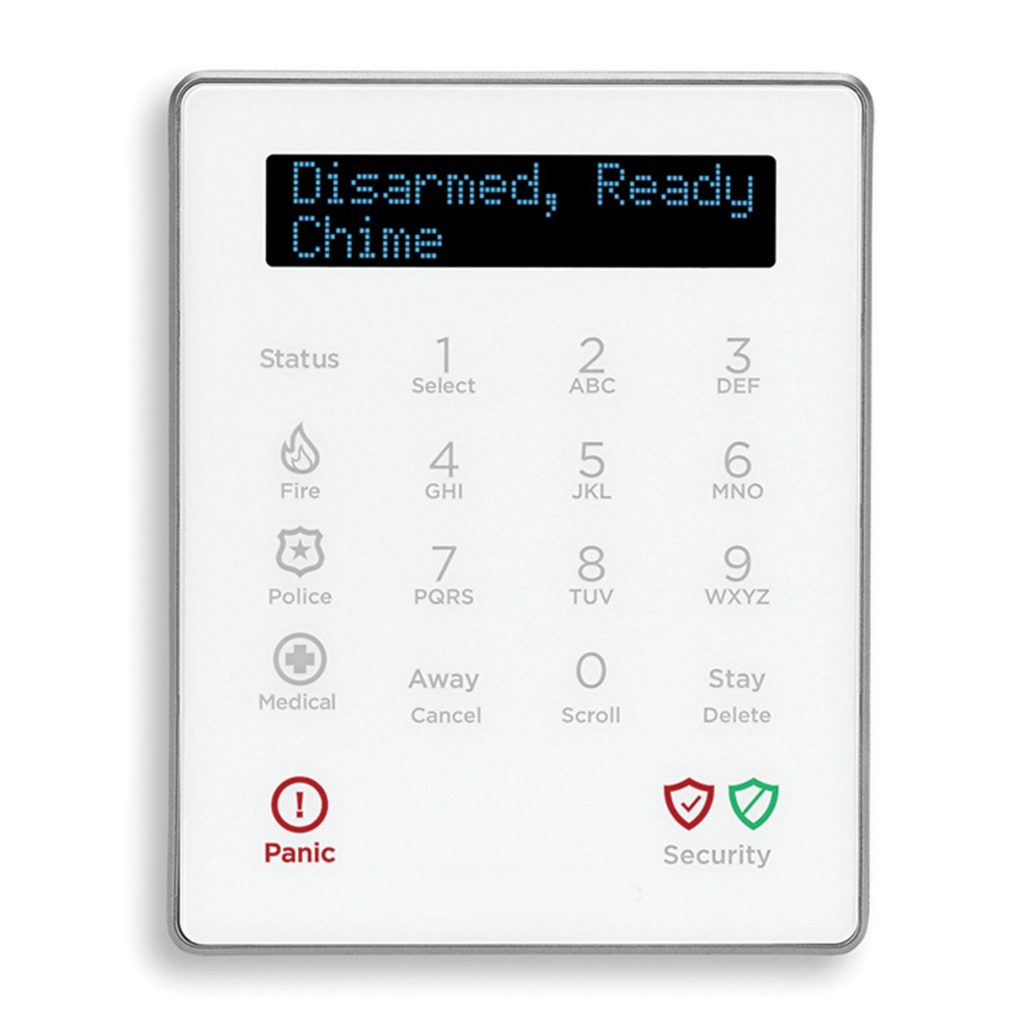 Local Alarms
A local alarm system is the most basic type of alarm system you can get.
They are unmonitored and they are very simple. They include sensors, which you place on your doors and windows.
The sensors have two parts, similar to the wired and wireless systems. The only difference is that they aren't actually connected to a control panel. They are individual. This type of system may also include motion detectors.
The concept is quite simple. When the circuit is broken, an alarm sounds. The alarm sound actually comes right from the sensor itself.
Later, we'll go into the pros and cons of this system, as well as all of the other options.
Wired Alarm Systems
The wired alarm systems are a traditional option that have been popular for a number of years now. This type of system includes a control panel, as well as wired sensors and motion detectors. The cameras included with this system are wired as well.
When someone or something trips the system, the alarm sounds. If the system is monitored, then the monitoring company can try to contact the homeowner or business owner, as well as emergency services.
Wireless Alarm Systems
The wireless alarm systems actually work very similarly to the wired systems. The most important difference is the absence of the wires.
When a sensor or motion detector goes off, the alarm sounds. If the system is monitored, you and the authorities can be notified.
Of course, the details depend on the provider you have chosen for monitoring and the system you have in place. Even though it is wireless, it is possible to get cameras with the system as well.
Pros and Cons of Local Alarms
The only real advantage that the local alarms have is their cost.
These systems can often be found in departments stores and online for well under a $100. They are also extremely easy to install.
They usually come with batteries, and then you just need to place them around your home on the windows and doors according to the directions.
While these are easy and cost effective, they don't really add much in the way of security.
There is no monitoring, and these types of alarms are relatively easy to disable. It could be a temporary option for those one a budget. If you are saving up for an actual wired or wireless system, you could use it for a short time. however, it's the weakest of your choices.
Pros and Cons of Wired Alarm Systems
The wired alarm systems are definitely a step up from the local alarms. These devices have a lower price than the wireless systems, and since they are wired, you don't have to worry about batteries to power the system.
However, there are certainly some drawbacks to this type of system as well. One of the biggest drawbacks is the installation process. Unless the home is already set up for the wiring from a previous owner, you need to drill holes in your wall to accommodate the system.
It is possible to install the system on your own. However, it will likely require a professional since it is more complicated. This could actually negate the fact that the price of the system is lower than wireless.
If you eventually plan to move out of the home, the system is much more difficult to take along with you. It's possible, it just takes longer, and you have to go through the setup process again at your new place.
Pros and Cons of Wireless Alarm Systems
The wireless security systems are starting to become very popular for homeowners and renters alike.
These systems are easy to take with you when you move. Just pack up the items, move them to your new place, and hook everything up again. The installation tends to be very easy. This means even those who are not technologically savvy can use these systems.
Even though it is possible to install on your own, you might still want to work with a professional installer. They can make sure that everything is set up properly the first time.
While these are a good option for many people, there are some potential drawbacks that you need to know.
First, these work on batteries, and that means you need to remember to replace those batteries. The batteries they use are high quality though, so you will only have to change them once every couple of years.
Also, the equipment for the wireless systems costs more than the wired systems.
What's the Best Type of Security System for Your House?
If you own your own home, or if you are renting a house, then you will likely want to choose a wireless security system. It's the easiest option in most cases.
However, if the home is already wired for a system, you might find that it's a faster and easier solution to go wired instead. You will want to stay away from the local alarms.
What's the Best Type of Security System for Your Apartment?
If you are living in an apartment, or even a condominium, you will find that the wireless systems are the best option.
That's because they are easier to install. Those who are in apartments won't be able to drill holes in the walls for a security system, so the wireless system makes perfect sense.
Again, the local alarms are a last resort. Of course, in a small apartment, they are definitely going to be more feasible to use than a wired system.
Which Alarm System Is Right for You?
As you can see, there are a number of different options when it comes to finding a system that works for your home. You have to consider many things when you are making your decision.
Think about your budget, the size of your home and whether you are renting or own the property. Also consider whether you plan to move in the near future. If you are only going to be in the property for a couple of years, it makes more sense to use a wireless system.
Quality Commercial Alarms and Security Systems in New York
Enhance your business security, safe-guard your property, and always respond quickly to emergencies with a high-quality Honeywell alarm system from Lockandtech – your local residential and commercial security experts.
Security is one of the most important responsibilities of any owner of a commercial building. No matter the size of the building, the layout, the purpose, or the contents, it's vital for the future of your business that you protect your employees and your property.
The security statistics in the U.S shine a startling light on just how at-risk commercial buildings in NYC area, and across the U.S, are. In 2015, there were almost half a million burglaries in commercial buildings alone, with the figure rising to more than 1.5 million when other properties are included.
One of the best ways to protect your business and your livelihood, as well as that of your employees, is to install a commercial alarm system. Businesses with an effective alarm system are 4.5x less likely to suffer from burglaries than those without suitable alarm systems in place – making alarms a vital part of whole-business security.
Where there's a need for alarm systems for businesses in New York, Lockandtech is the company to go to. Our range of commercial and residential security options, our dedication to providing the best security systems, and our extensive knowledge of the industry puts us in the perfect position to help your business to increase its security.
How Lockandtech can help your business
The knowledge that Lockandtech can offer your business is built on more than three decades of experience in the commercial and residential security industry. We know alarms inside and out, which is why so many businesses in New York City rely on our service to keep their premises secure from trespass and burglary.
We provide a comprehensive system for whole-business security, providing every kind of alarm that you need to keep your business secure. From commercial alarms and fire alarm systems to a range of options for wireless security camera systems, we can cover your business from every angle to make sure there's no unprotected point of entry.
All our alarm systems are of an exceptional quality, chosen for their high security, simplicity of use, and ease of integration into security systems. We also understand that an alarm isn't the only security measure that you need to keep the inside and outside of your business secure, which is why we can also help to provide a wide range of additional security systems and measures, including:
Secure Entry Systems (Such as Commercial Keyless Entry, Managed Access, and Card Readers)
24/7 Monitoring Plans for Businesses
Professional Commercial Locksmith Services
Big business or small business, if you're looking for the best security alarm system to keep your property secure, Lockandtech has a solution for you.
Where are alarm systems from Lockandtech used?
Having been in the industry for more than 30 years, we have had the pleasure of working with businesses the length and breadth of the NYC area. We have provided high-security alarm systems for a vast number of businesses, organizations, and facilities in New York, growing a large client-base than spans an incredible range of industries.
Some of the types of businesses and facilities that we have provided tailored alarm systems in NYC, include:
Government Offices
Schools
Office Buildings
Hospitals
Medical Facilities
Libraries
Manufacturing Plants
Every retail building, facility, and office in Chicago has some risk of trespass or burglary, but with a tailored alarm system in place, you can implement preventive measures to keep your premises safe.
Our previous experience dealing with the unique challenges and varying complexities of buildings in a range of industries means that we can help you to create a high-secure alarm system, no matter the nature of your businesses premises.
Alarm Monitoring
A security system can put your mind at ease while protecting your home or your business. In the past, however, a security system was only truly effective if there was someone available to call the authorities when an event occurred. Now, when your alarm is triggered, the signal is immediately sent to our award-winning, 24/7 professional alarm monitoring center. With Lock and Tech USA, your property is protected 24 hours a day, 365 days a year — whether or not you're at home or at work.
The Benefits of Professional Alarm Monitoring
Your alarm system is not reaching its full potential if it's not being monitored. The following are just a few of the benefits of 24/7 professional alarm monitoring for your home or business.
Reliability — With our 24/7 security system monitoring in New York, you don't have to rely on neighbors or others to notice that there's a problem.
Faster response — The proper authorities are notified immediately following an event. That means the response time to your emergency — whether a gas leak, ambulance call, fire or break-in — is drastically shorter than if your alarm is not monitored.
Peace of mind — Having your alarm monitored 24 hours a day means you can enjoy peace of mind wherever you are. This can be especially helpful for families with kids, seniors or pets.
When you choose Lock and Tech for your 24/7 alarm monitoring service in New York, you know you're receiving highly skilled operators who have been trained to respond to emergencies. The moment your alarm sounds, our award-winning monitoring center in Aurora, Ill., is prepared to respond.
At Lock and Tech USA, your No. 1 fire alarm monitoring company in NYC, we also offer a highly reliable wireless AES radio option for alarm monitoring. Wireless signals are delivered to our central monitoring station, so there's no need to rely on a third-party network and you'll no longer need a dedicated telephone line for alarm monitoring. Additionally, Lock and Tech provides a personalized local runner service for locally monitored accounts. We're dedicated to offering the best customer service of any alarm system monitoring company in New York.
Why Choose US?
Lock and Tech USA is the most qualified alarm system monitoring company in New York. When you choose L&T, you gain access to the more than 100 service vehicles dispatched from our local central monitoring station. And you'll always reach a live operator when you contact us. Call (877) 715-6252 to learn more about protecting your home or business with 24/7 alarm monitoring from the top security company in New York.
Fire Alarm
It's easy to overlook fire protection for your business. But most businesses don't have the resources to rebuild after a catastrophic fire. Let Lock and Tech USA be your go-to solution for a new fire alarm system in NYC.
The Importance of Fire Alarms
In 2019, fires caused more than 37 billion dollars worth of damage in the United States. Early detection provides the best and least expensive defense when it comes to preventing fires. Thus, fire and life safety must be of the utmost concern for any building owner. Plus, most businesses are legally required to outfit their buildings with fire prevention systems.
Installing a modern alarm system helps protect your employees, customers, and property from potentially devastating losses. Fires often start quickly and unexpectedly. But acting proactively instead of reactively can save lives and reduce losses by minimizing damage. We can help you get the protection at a price you can afford.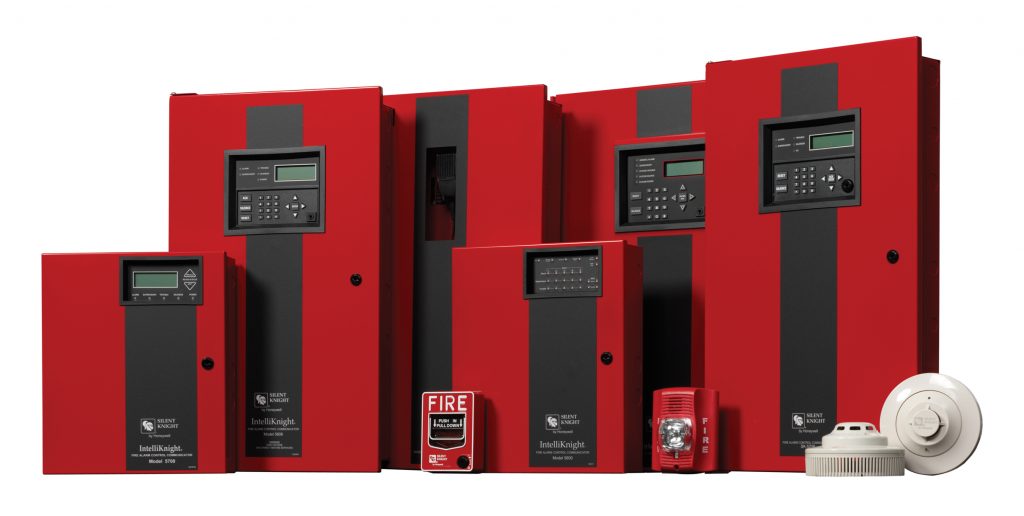 State-Of-The-Art Fire Alarm Systems for New York City
Lock and Tech has more than 30 years of experience designing and servicing fire alarm systems throughout New York City and the surrounding areas. All of our security engineers are National Institute for Certification in Engineering Technologies (NICET) certified. This ensures their proficiency in a wide variety of technical areas related to fire alarms, including:
Fire alarm system design
Alarm monitoring
Inspection testing
Building and fire codes and standards
A variety of detector and signaling systems
Supervision requirements
Power requirements
Building/space structure and occupancy considerations
Basic electricity and electronics
Our technicians will provide you with options for the most efficient fire safety solutions for your specific needs. Commercial alarm systems in New York come in a variety of styles, each with its own purpose.
With decades of experience under our belt, we know the benefits and drawbacks of every kind of alarm system. Let us use that knowledge to keep your building and its occupants safe.
We offer a full range of fire safety system solutions from leading manufacturers. Our Intellient systems provide the industry's fastest response times because we know how crucial every second can be. In addition to servicing and monitoring most brands, Lock and Tech is an authorized distributor for:
Silent Knight
Honeywell
FireLite
So whether you need a whole new fire alarm system or you're looking for ways to save on your monitoring service, Lock and Tech USA can help. Reach out to us today for a free system evaluation or consultation.
How Does A Commercial Fire Alarm System Work?
A fire alarm system relies on fire sensors to detect events that may result in a fire. Fire sensors take many forms, but carbon monoxide, heat, and smoke detectors are the most common. After detecting one of these signals, the sensor transmits its findings to the fire alarm control panel.
Next, the control panel activates flashers or sounders to notify the building's occupants of the threat. In some buildings, the control panel will activate a fire sprinkler system as well. While taking action on-site, the control panel also calls for help in many cases. It will notify the fire department and/or the building owner or monitoring center.
Above all else, a fire alarm must notify all of the occupants of the building when it detects a fire. Doing so provides the occupants with the warning they need to exit the building safely and calmly. Thus, functional testing of every component of your system is essential.
While it might seem like fire alarm inspections are a hassle, they quite literally save lives. If you haven't had your fire alarm system tested recently, give us a call today to schedule an appointment. You never know when a fire will strike and if you're not prepared, an otherwise manageable event could end up being a disaster.
Commercial Alarm Systems in New York
Businesses are required to adhere to a variety of fire system standards for the protection of their employees and customers. Because these standards can change, they must be checked regularly to ensure compliance. The system standards depend on the city, town, and municipality.
At Lock and Tech, we know how difficult it can be to make sense of and keep track of these changing standards. We simplify this process for our clients by working regularly with local fire departments. We also work closely with authorities having jurisdiction, the offices and individuals charged with enforcing life safety code.
By working closely with these authorities, we know what's required for every kind of business. We use this knowledge to provide ongoing testing and inspections of fire alarm systems by our highly trained personnel, as required by the National Fire Alarm Code.
Lock and Tech's commercial alarm systems in and around NYC provide businesses with the best chance of staying safe. We make sure that your alarm meets both local and national requirements and even offer monitoring services for systems installed by other companies. Each of our fire alarm systems undergoes extensive testing to ensure that it's ready for anything.
Give us a call for a completely new fire alarm system, New York video surveillance systems, or any of our other business services. We're happy to provide you with a system evaluation or consultation free of charge. So contact us today to learn how we've earned a reputation as one of the best fire alarm companies in New York.
Burglar Alarm
As a homeowner, you have a constant concern for security. And for good reason, because the FBI estimates 74% of all burglaries in the United States were residential and over 4.6 billion dollars were stolen.
What We Offer
Lock and Tech USA can design a custom security system for your home to supply the safety you need for you and your family. We offer an almost unlimited number of security and monitoring options to meet the needs of any size home.
All Lock and Tech systems are monitored 24 hours per day, 7 days per week, and 365 days per year. Upon alarm activation, our operators will quickly respond to the alert to figure out what happened (i.e. Fire, Burglar, Hold-Up, Power Fail, High Water) and then notify the appropriate personnel.
The Type Of Security You Need
Our security and monitoring offerings will help you secure your home. Some of our options include:
Camera Systems: Our digital IP camera systems can connect you to your system online, allowing you to view live or look over past video from virtually any computer, smartphone, or tablet.
Fire & Carbon Monoxide Alarms: We can install a smoke detector system that is live 24/7 to protect all your valuables. These two types of alarms can be crucial to a quick response in the case of an emergency.
Smartphone Access: Having remote control services allows you to be aware of the interactive powered system in your home no matter where you are. Through your smartphone, you can do things like receive security system triggered alerts and events and open and close garage doors.
Central Station Services: When you protect your home with Lock and Tech, you are giving us control of your system to help monitor things like burglar alarms, medical alert alarms, and more. You can choose the settings that best allow the interactive services to guard your home.
Sales, Service, Installation
Local Protection. We monitor from a monitoring station here in NYC. The same can't be said for nationwide security providers.
Flexible Installations. Every sensor, control panel and audio device is customized to meet the needs of your facility.
Comprehensive Solutions. From installation and monitoring to maintenance, we have your back.
Get a Free Risk Assessment of your home or business by Our Security Expert
Lock and Tech. Service Well Done!
Lock and Tech is a full service security company. We offer Surveillance Camera Systems, Alarm Systems, Access Control, Fire Alarms Systems, & Intercom Systems. We also specialize in Low Voltage Pre-Wiring and Hardwire security and monitoring systems.
We Serve Residential, Commercial, & Industrial Sector clients in the NYC area. We offer Reliable & Quality Products at a reasonable price. Our technicians are highly trained in the installation, testing, & repairing of Security Systems. Additionally, we use only the most advanced equipment to ensure your home or facility's safety. Imperial tests every system we carry, so our clients always receive quality, reliable equipment.
Hear from Our Clients
I am a property manager in Manhattan and had to find a company to repair a busted intercom system. I came across Lock and Tech, and George set everything up for me, answered all of my questions over three different conversations, and he never made me feel like I was bothering him with all my questions and concerns. The technicians did a fabulous job and had the intercom fixed in less than an hour. The men cleaned up thoroughly after the job which I completely appreciated. I highly recommend this company and will definitely use them again.

We are renovating our small (6 unit) apartment building in Manhattan and decided it was time to replace our very old and finicky intercom. We opportunistically decided to install a Virtual Doorman so we buzz deliveries in when we are not at home. The team at Lock and Tech has been great. The installation was all done in one day and we all have electronic keyfobs that control our first two doors, in addition to the keypad. The team is very responsive and professional. I highly recommend them!

After doing research for a an installer, we landed with Lock & Tech for a small install. I was so impressed with their customer service, quality and overall work, we hired them for a larger job. We've like the work so much we've been using them for the past 3-4 years doing installs in and around our facility. The team is very knowledgeable and accommodating, and will work with you throughout the whole process until you are satisfied. Prices and services are great and will continue to use their services in the years to come. Highly recommend!

I selected Lock & Tech for our intercom system installation after looking up every company that does this work. Even after selecting them I was skeptical of Google and Yelp reviews and wasn't sure what I would get. It turns out they are reliable, do expert work, and are great to work with. My building is very old and they did an excellent job of installing the intercom, strikers and locks despite the difficulties that exist in old buildings. They were attentive to all our particular needs and responded quickly to calls or texts. Above all, the price was very reasonable, more so than other installers. I highly recommend them.

We had Lock and Tech USA install a security camera system to our Prospect Heights co-op and Gabriel and his team did an amazing job! They installed the whole system, including 6 cameras on the interior and exterior of our building in one day! The quality of the cameras and equipment is top of the line- the picture is crystal clear. They are very thorough, responsive, professional and offer high quality installation and equipment for a great price. They email and call when you need and made sure we were 110% happy with everything. Highly highly recommend these guys!

Derek was amazing and professional. He met all my needs and answered all my questions. His workers came knowing what was needed to be done and did an amazing job. I needed to get my camera system replaced with a new one. They charge on a hourly basis, so the workers did not take their sweet time to run up the price. They did a very professional job at a very fast rate. I am very pleased with Lock and Tech USA. I will always refer to them for any security needs. Thank you guys.

Lock and Tech USA successfully installed an AIPHONE intercom system at my Brooklyn office. Their technician, Viktor, was personable, pleasant, and highly skilled. Viktor carefully installed the intercom system without damaging expensive suede wallpaper, professionally concealed wires in walls, and ensured that the intercom system was perfectly functioning before departing. Viktor is a wonderful technician. As such, I recommend Lock and Tech for AIPHONE intercom installations – Ask for Viktor!

Great communication, follow-up, and support!! Sales was straight forward, no point even negotiating, very reasonable and understanding! Installation was quick and thorough and they put everything exactly where I wanted them to be. We had an issue with one of the devices and they responded in minutes and even came back the next day. Amazing service!
Have any ideas in your mind?
We provide leading security systems
Companies We Have as Clients