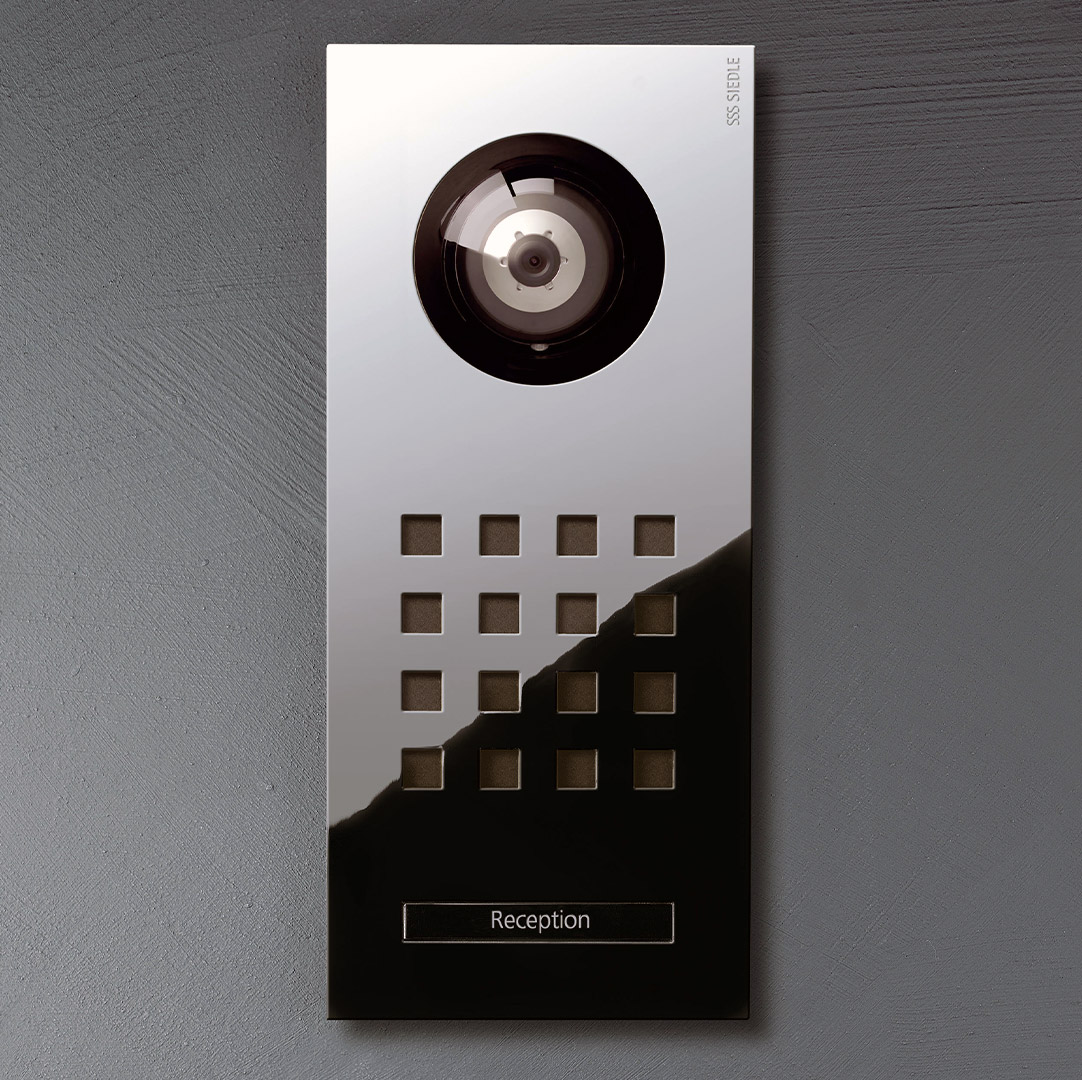 Siedle is a top-rated communication technology company in the worldwide markets of intercoms and access control systems. Siedle gives companies access to the best intercom and access control systems to industrial and commercial buildings. Our products also meet the demands of ever-evolving challenges residential homeowners face.
Dating back to the creation of the intercom system, Siedle has been determined to remain on the cusp of the cutting edge with intercom systems. Siedle is a leader in its class by continually striving for and achieving continuous improvement and enhancement.
Siedle's sleekly-designed intercom systems create non-intrusive, elegant systems that easily blend into the space around them. The simple design creates ease and high-end function for everyone who uses it. Siedle is a top choice for a wide range of security needs, offering video and audio solutions for outdoor and indoor spaces.
Siedle's audio door station intercom systems offer excellence of quality for the classic intercom. The Siedle audio door station intercom system offers hearing, speaking, and remote door release features, all of which are the basis for all door communication. There are four varieties of Siedle door station intercom systems.
Siedle's video door station systems are a step above what's offered in the audio door station intercom systems by allowing visitors to be visually identified to grant access. Seeing, speaking, hearing, and a remote door are all features of the Siedle video door station system.
Contact us for a quote.
Seidele Provides a Variety of Top-Rated Audio and Video Systems
Seidele proudly provides four varieties of video and audio systems that can be customized to meet your needs. Our products include:
The Classic Series: This series is created out of solid metal and brass and takes a modern approach on a classic door station. This unique series features a loudspeaker and beautiful, intricate design and finish.
The Vario Series: This is a customizable audio and video system designed to meet a variety of needs and perform different functions.
The Steel Series: Beautifully designed and featuring an elegant, modern style, the Steel Series turns any audio and video system into a work-of-art. You'll hardly realize it's providing optimal security at the same time.
The Compact Set: With the Compact Set, you'll be getting the high-quality, familiar audio and video system you've come to know and love from Seidele. This features a compact interface and accessible phone, so you can always stay connected and in the loop.
At Siedle, our audio and video systems come in a variety of different shapes and luxurious, stylish designs that can fit any kind of home. Whatever your aesthetic, you can get an audio and video system to match. All of our classical integrated systems come with a hands-free unit or receiver. However, you can customize this based on your needs. Some of our variations include:
Standard – The basis for strong communication, the standard intercom system signals door calls and has door-distinguishing capabilities. Call tone volume and customizable light switch settings make the standard system flexible and fit for your specific needs.
Deluxe – A step above standard, the deluxe system offers up to eight buttons to address more strict security requirements. Turn your in-house phone into your own personal security control center. Utilizing the buttons on the deluxe version, you can have up to fourteen different control options.
Tabletop – All of Siedle's indoor station solutions are available with tabletop designs if you'd rather have that instead of wall mounting.
Siedle's impressive indoor video stations give you a clear view of who's at your door, so you no longer just have to rely on hearing. Our video stations come in a variety of versions, including but not limited to:
Hands-free telephone: This is mounted to your wall for convenience, so you can have a face-to-face conversation with anyone on your property before granting them access.
In-house telephone systems: Our in-house telephones are specially created. When someone calls, an image will appear on the phone and you can easily communicate with whoever's on the other end with the custom-made receiver.
Siedlescope: With the innovative Siedlescope, you have the power at your fingertips. This cutting-edge technology transfers images onto a cordless device. So whether you're upstairs or downstairs, you can easily see who's approaching your property and decide to grant them access. This innovative technology is leading the way in instant security monitoring.
Doorcom IP network: With this, video intercom systems are hooked up to your PC, so you can easily access switch functions, status messages, video surveillance, and operate a door release all from your computer. This system doesn't require phones.