Aiphone Door Entry Systems & Intercoms Installation in New York City
Aiphone Systems has been recognized as one of the most respectable and dependable security system brands in the world. Whether you're a New York-based business owner or homeowner, you can trust that Aiphone Systems has the top-rated security system you need to protect your premises.
Aiphone Systems offers over 25 different security systems, including but not limited to intercom systems, video access security, and security units for both the front and back doors and loading docks. Our team of technicians understand that no two buildings are alike, nor are the needs, which is why we can produce custom-ordered units to accommodate your desired security system. Whether you're living in an apartment, home, or looking to upgrade your existing security system at work, we have you covered.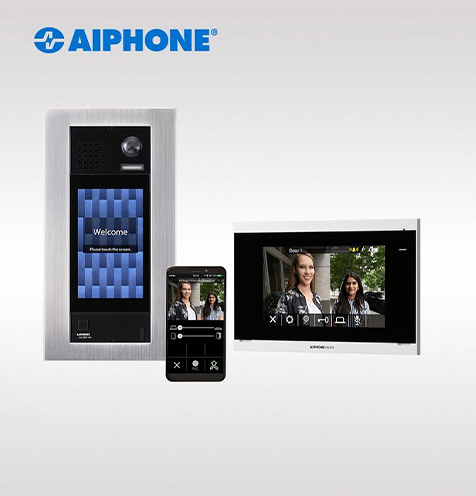 Aiphone Offers Top-Rated Security Systems in Greater New York Area
Aiphone Systems is proud to partner with other companies and skilled technicians in the greater New York Area. For example, Lock and Tech USA, an experienced intercom company in New York is highly skilled in the installation, repair, and maintenance of Aiphone Systems video and audio intercom systems.
Aiphone Systems is a leader in communication and security systems. We have been highly rated for the simplicity of our designs, reliability, and experience in the latest technological advancements and techniques. We provide quality video-entry security systems, door-release intercoms, and microprocessor systems for commercial business owners across New York.
We only use the best, which is why we remain a top-rated choice for business owners looking to design or upgrade their existing security systems. Because of our extensive catalog, we're able to offer our clients a wide range of security products and options.
Here are a few of the products we offer:
Crisp intercom systems. These intercom systems offer instant communication from every part of the building, essentially eliminating the need to track someone down. Employees can page anyone in the building, as well as make emergency announcements in the event of an intruder, dangerous weather, or other emergencies. If you have multiple buildings, no worries; Aiphone's IP intercom comes equipped with multi-building connectivity, so you can get your messages out when necessary.
Main-entry video system. The Aiphone main entry video entrance system uses high-quality video and clear audio to make confirming visitor access easier. If your company receives a lot of orders, your staff will benefit from having the ability to see and hear who needs access to the building without having to get up from their desk to do so.
Secondary entrance system. This system allows you to keep your main entrances open while granting secure access to employees and/or visitors to certain parts of the building.
Service area security systems. If your company has a delivery area, loading dock, or shipping bay, you can utilize these service area security systems to grant visitors remote access. With video technology, your staff can reduce interactions with unwanted visitors and keep themselves safe.
Parking garage monitoring system. With this system, employees can utilize video intercoms to speak with visitors at the entrance gate. This system also comes in handy in the event of an emergency and will grant connected security access to elevators, stairwells, and other remote locations through the use of a control station.
No matter what your need is, Aiphone Systems can provide it. We are a top-rated leader in communication technology and security systems installation. Our clients range from homeowners to commercial properties and educational institutions. Whether you need to stay connected across a busy college campus, secure parts of or your entire office building, restrict main entrances access, or monitor your service area, Aiphone Systems is a great choice for all of your security system needs.